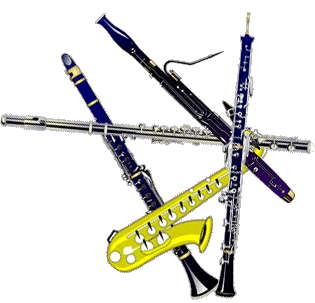 Welcome to the website for my music studio offering lessons in a variety of woodwind and other wind instruments. Use this website to check lesson schedule times, contact me, and other key information about studio policy, location, and my teaching strategy. Please read the notes below, thank you.
NOTE: Due to the Covid-19 virus, I have strict requirements to ensure lessons are as COVID free as possible. My requirements starting with masking have been shared with each student and parent. Do not come to a lesson if you are not feeling well or you've been in contact with someone who is ill and has not been tested for COVID. Thank you for your understanding and support. Kay Williams. (updated September 2022)

Note 1:Changing lesson times. My policy is that changing your lesson time is up to you and your responsibility. To help you with this please use the calendar when you enter the private web portal for my studio. Here are some helpful tips. After logging into the student portal, the calendar should show the current month and open lesson times only.
Now, if you are looking for someone to swap times with (if the open times will not work for you), do the following:

To see all "lesson times" please click on the "Show Full Events" at the top of the calendar.

To find out the student assigned to a lesson you might be able to swap with, click on the lesson time and their name will show in the pop-up window.

To find that student's email or phone, in the menu list on the left of the webpage, click on "Studio Info."
Note 2: When you enter your personal student portal (STUDENT LOGIN) it should open in a new tab or window on your web browser. To return to public portion of my website, go back to the other tab or window.